JM Latin Band- Salsa, Mambo, Cumbia, Merengue, Cha Cha, Bolero, Pop
The JM Latin Band is an exciting professional 7-11 piece Salsa Orchestra that brings a high level of energy with its exciting lead singers, and a fiery horn section that is equally adept at Salsa or Latin Jazz for the dinner portion of your event. It will be one to remember. Our setlist is versatile including Salsa, Cha Chas, Cumbias and Merengue. Latin Jazz or straight ahead reception Jazz also available by special request.
The band has a reputation for professionalism and an appeal to diverse audiences along with a sincere desire to make your event hassle free.  They play all types of events including Weddings, Parties, Festivals, Quinceaneras, Corporate Functions, Holiday-Company Parties and more.  Contact me to go over options, dates, timing and pricing.   We can also supply professional latin/or salsa dancers to enhance your event.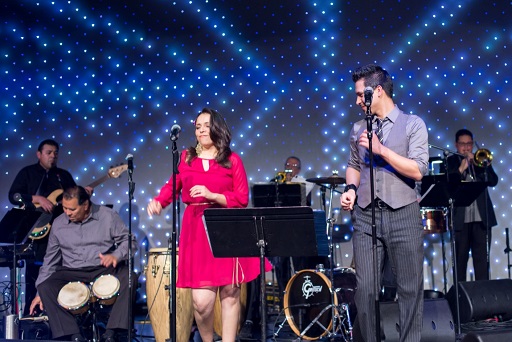 Sample Song List and plenty more Salsa and Latin Jazz if requested
Toro Mata – Celia Cruz – Mambo
Yo No Se Mañana – Luis Enrique – Pop Salsa
Nadie Como Ella – Marc Anthony – Pop Salsa
Rebelion – Joe Arollo – Classic Salsa
Pink Panther (La Pantera Mambo) – La 33 – Contemporary Salsa
Perhaps, Perhaps, Perhaps (Quizas) – Lila Downs – Cha Cha
Cucala – Celia Cruz – Classic Salsa
Rompe Saraguey – Hector LaVoe – Classic Cha Cha
Cuarto de Tula – Buena Vista Social Club – Cuban Classic
Yumbambe – Poncho Sanchez – Mambo
Escuche El Ritmo – Spanish Harlem Orchestra – Cha Cha
La Murga de Panama – Hector LaVoe – Cumbia/Salsa
Mi Tierra – Gloria Estefan – Salsa
Pa Bravo Yo – Salsa
Sabor A Mi – Bolero
Beautiful Maria – Bolero
Lloraras – Oscar DeLeon – Salsa
Coco My My – Poncho Sanchez – Jazz Salsa
Ayer – Gloria Estefan – Cuban Son
Que Nadie Sepa – Cumbia
Juana La Cubana – Cumbia
La Pollera Colora – Cumbia
La Canoa Rancha – Cumbia
Escandolo – Cumbia
Bonita y Mentirosa – Cumbia
Oye Como Va – Latin Rock
Evil Ways – Latin Rock
Suavemente – Merengue
La Bilirubina – Merengue
Vehicle (Tu Carrito) – Salsa in English
Sway – Michael Buble – Cha Cha
At This Moment – Pop Ballad
Canteloupe Island – Latin Jazz Cha Cha
SALSA
Ayer – Gloria Estefan – Cuban Son
Acabo de Llegar – Salsa
Amor Verdadero – Salsa (Guajira)
Beautiful Maria – Bolero
Cachondea – Salsa
Coco My My – Poncho Sanchez – Jazz Salsa
Cuando Te Vea – Spanish Harlem Orchestra – Salsa
Cuarto de Tula – Buena Vista Social Club – Cuban
Cucala – Celia Cruz – Classic Salsa
El Preso – Salsa
El Raton – Salsa (Son)
Escuche El Ritmo – Spanish Harlem – Cha Cha
La Esencia del Guaguanco – Salsa
La Murga de Panama – Hector LaVoe – Cumbia/Salsa
Lloraras – Oscar DeLeon – Salsa
Micaela – Salsa
Mi Tierra – Gloria Estefan – Salsa
Nadie Como Ella – Marc Anthony – Pop Salsa
Pa Bravo Yo – Salsa
Pa Gozar – Spanish Harlem Orchestra – Cha Cha
Perhaps, Perhaps, Perhaps (Quizas) – Lila Downs – Cha
Cha
Picadillo – Tito Puente – Salsa (descarga)
La Pantera Mambo (Pink Panther) – La 33 –
Contemporary Salsa
Quitate La Mascara – Salsa
Rebelion – Joe Arollo – Classic Salsa
Rompe Saraguey – Hector LaVoe – Classic Cha Cha
Sabor A Mi – Bolero
Sonando – Poncho Sanchez – Cha Cha
Soul Sauce – Cal Tjader – Cha Cha
Sway – Michael Buble – Cha Cha
Toro Mata – Celia Cruz – Mambo
Vamanos Pa'l Monte – Eddie Palmieri – Salsa (descarga)
Vehicle (Tu Carrito) – Salsa in English
Yo No Se Mañana – Luis Enrique – Pop Salsa
Yumbambe – Poncho Sanchez – Mambo
CUMBIA
Bonita y Mentirosa – Cumbia
Escandolo – Cumbia
Juana La Cubana – Cumbia
La Canoa Rancha – Cumbia
La Pollera Colora – Cumbia
Que Nadie Sepa – Cumbia
POP/ROCK/MERENGUE
Oye Como Va – Latin Rock
Evil Ways – Latin Rock
Suavemente – Merengue
La Bilirubina – Merengue
At This Moment – Pop Ballad
Canteloupe Island – Latin Jazz Cha Cha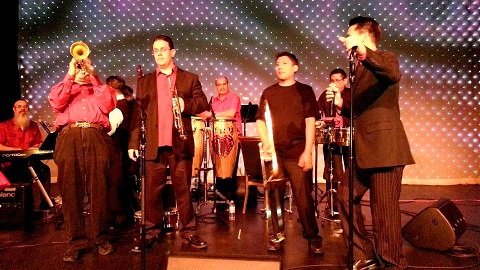 Instrumentation Options (will vary depending on mix of styles requested)
11 Piece Full Salsa Dura Band
– (4 horns) 2 trumpets, 1 Saxophone (or trombone), 1 trombone
– Timbales, Congas, Bongos
– Piano
– Bass
– 2 lead vocals
10 Piece Salsa/Latin Jazz Band
– (3 horns) 2 Trumpets or 1 trumpet with 1 Sax, 1 Trombone
– Timbales, Congas, Bongos
– Piano
– Bass
– 2 lead vocals
8 Piece Latin Band
– (2 horns) 1 trumpet, 1 Sax or trombone
– Timbales, Congas, Bongos
– Piano
– Bass
– 1 lead vocal
– (may substitute 1 lead vocal and remove one percussionist)
7 Piece Latin Band
– (2 horns) 1 trumpet, 1 Sax or trombone
– Timbales, congas
– Piano
– Bass
– 1 lead vocal