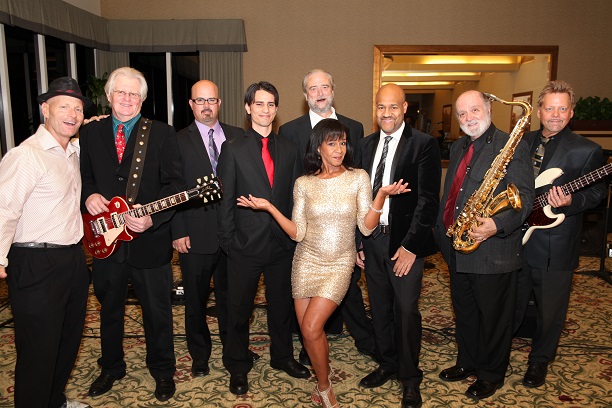 You can hear and see the by clicking on the demos below.
Click here for audio Real Player demo 1.16MB
Click here audio MP3 demo 6.80MB
Click below for video demos
Bobs Yer Uncle is a dynamic, 6-10 piece band with male and female lead vocalists, two- three horns, and a rockin rhythm section. They play a high-powered brand of rhythm and blues, swing, and rock with emphasis on vocal harmonies and powerful horn arrangements. Bob's Yer Uncle creates excitement wherever they perform!Bobs Yer Uncle  has opened major events for acts such as Crosby, Stills and Nash, The Jefferson Starship and the Doobie Brothers.Members of BYU have played with Michael Jackson, Jackie Wilson, Red bone, Sheila E., Sister Sledge, The Ad-Libs, Weird Al Yankovich, and the Dick Clark Road Show; which included Little Anthony and The Imperials, Freddie Cannon, The Drifters, The Platters and the Coasters.This is the ultimate party band with contagious rhythms as dancers simply cannot resist their powerful music while audiences will not forget.Hire Bobs Yer Uncle for your next event, and it will be a guaranteed success.Song List:
Current Songs- Always learning more & Updating:

Locked Out of Heaven-Bruno Mars
Treasure-Bruno Mars
Get Lucky-Daft Punk
Happy-Pharrell Williams
Hella Good-No Doubt
I Wish

Gotta Give it Up

Blurred Lines- Robin Thicke

Tighthrope

Kiss- Prince

Vehicle

 R & B
HOLD ON IM COMING
KNOCK ON WOOD
SIGNED SEALED DELIVERED
YOURE ALL I NEED TO GET BY
DANCING IN THE STREET
MERCY
LETS GET IT ON
CHAIN OF FOOLS
SHOTGUN
BOOGIE OOGIE OOGIE
CAN'T GET ENOUGH OF YOUR LOVE BABE
BAD GIRLS
BRICK HOUSE
GOT TO BE REAL
MUSTANG SALLY
LADY MARMALADE
SEPTEMBER
ROCK STEADY
WHATS GOING ON
SHAKY GROUND
LETS STAY TOGETHER
DO RIGHT WOMAN
ADDICTED TO LOVE
CAN'T HURRAY LOVE
SOUL MAN
FUNKYTOWN
GET READY
RESPECT
CELEBRATION
I WILL SURVIVE
HEARD IT THRU THE GRAPEVINE
BEST OF MY LOVE
LAST DANCE
AIN'T TOO PROUD TO BEG
TELL MAMA
AT LAST
LOVE TO BURN
SPOOKY
DAMN YOUR EYES
BOBS YER UNCLE SWING – JUMP BLUES
BLUE SKIES
CADILLAC BABY
ALL OF ME
CALDONIA
I GET EVIL
ENOUGH FOR YOU
ALL AROUND THE WORLD
SURELY I DO
IT AINT THE MEAT
WINE
HEY BABY
LEAP OF FAITH
BLOODSHOT EYES
GEORGIA
TOO MUCH STUFF
THE HUSTLER
29 WAYS
HIT THAT JIVE JACK
NEXT TIME YOU SEE ME
JUMP JIVE AND WAIL
TRAIN KEPT ROLLING
LILLIE MAE
ROUTE 66
5 MONTHS 2 WEEKS 2 DAYS
PAYING THE COST TO BE THE BOSS
COLD SWEAT
IVE GOT PAPERS ON YOU
WALKING SLOW BEHIND YOU
SUMMERTIME
Motown, Rock and Roll, Disco
F     HOLD ON IM COMING
Eb   SIGNED SEALED DELIVERED
C     LETS GET IT ON
E     SHOTGUN
Am  BRICK HOUSE
C     MUSTANG SALLY
A     SEPTEMBER
Eb   WHATS GOING ON
F     LETS STAY TOGETHER
A     ADDICTED TO LOVE
F     SOUL MAN
Bb   GET READY
G     CELEBRATION
Am  GRAPEVINE
C     AINT TOO PROUD TO BEG
F     YOU'RE ALL I NEED TO GET BY
C-D  MY GIRL
G   DOCK OF THE BAY
More SWING
C     BLUE SKIES
F     ALL OF ME
D     I GET EVIL
C     ALL AROUND THE WORLD
E     IT AINT THE MEAT
G     HEY BABY
F     BLOODSHOT EYES
C     TOO MUCH STUFF
F     29 WAYS
F     NEXT TIME YOU SEE ME
D     TRAIN KEPT ROLLIN
D     ROUTE 66
C     PAYIN THE COST
C     IVE GOT PAPERS
Cm   SUMMERTIME
F      CADILLAC BABY
C     ENOUGH FOR YOU
C     CALDONIA
Bb   SURELY I DO
A      WINE
B      LEAP OF FAITH
F      GEORGIA
G     THE HUSTLER
F      HIT THAT JIVE JACK
Bb   JUMP JIVE AND WAIL
C     LILLIE MAE
C     3 MONTHS 2 WEEKS 2 DAYS
F      COLD SWEAT
More R – B
F     KNOCK ON WOOD
F  YOURE ALL I NEED
E     DANCING IN THE STREET
Am  CHAIN OF FOOLS
D     BOOGIE OOGIE OOGIE
Dm  BAD GIRLS
Gm  GOT TO BE REAL
Fm  LADY MARMALADE
Fm  ROCK STEADY
E     SHAKY GROUND
Bb   DO RIGHT WOMAN
Bb   CANT HURRY LOVE
C     FUNKYTOWN
Bb   RESPECT
Am  I WILL SURVIVE
C     BEST OF MY LOVE
F     TELL MAMA
Gm   SPOOKY
Dm   LOVE TO BURN
Am   DAMN YOUR EYES
F     AT LAST
DINNER MUSIC
Am   COMING HOME
C     PUT IT WHERE YOU WANT IT
C     A TRAIN
C     C JAM BLUES
Cm  A GOOD GIRL IS HARD TO FIND
Cm  SOFTLY AS A MORNING SUNRISE
G     CHICKEN SHACK
Bb   FREDDIE THE FREELOADER
Bb   TENOR MADNESS
Cm  EQUINOX
C     NIGHT AND DAY
Am  BLACK ORPHEUS
Dm  LITTLE SUNFLOWER
C     GREEN DOLPHIN STREET
G     JUST FRIENDS
F     GIRL FROM IPANEMA
Em  AUTUMN LEAVES
Cm  BLUE BOSSA
Cm  SWAY
Bb    THERE IS NO GREATER LOVE
BOBS YER UNCLE STANDARDS AND COCKTAIL MUSIC
THE BAND PLAYS THE REAL BOOK FOR ALL COCKTAIL MUSIC.
WE CAN DO MOST STANDARDS VOCALLY. FOR SPECIFIC TUNES
WE NEED ADVANCED NOTICE ACCOMPANIED BY SHEET MUSIC OR AN AUDIO COPY OF THE TUNE.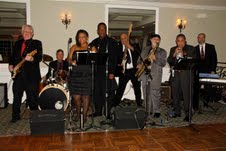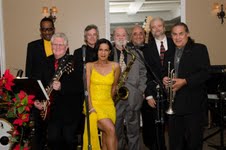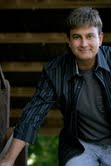 Chris, who is pictured above, also sings in the band as an extra singer or sub every so often.