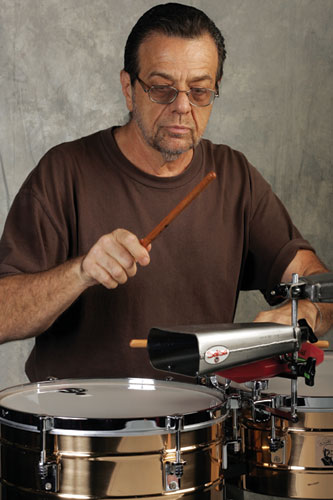 New York born and bred, percussionist, composer/ arranger and bandleader Bobby  has dedicated his life to playing and spreading the best Afro Latin Jazz he can. He is a veteran of many tours and recordings and has played with such stars as Bobby Hutcherson, Tito Puente, Mongo Santamaria, Miriam Makeba, Jack Costanzo, Dave Pike, Pucho & the Latin Soul Bros., Ralph Irrazarry, Larry Harlow, Celia Cruz, Eric Gale, and others.  He has 15 CDs out and the latest ones feature a wide range of Latin jazz sounds that reflect influences from Cuban Charanga to John Coltrane
You can hear-see the band sound bytes by clicking on the demos below.
Bobby's Latin Jazz Ensemble Bobby's Latin Jazz Ensemble are known throughout the world as they travel to Great Britain, Canada, Mexico, and all over the U.S.A.
Playing sounds of Latin , Jazz , Mambo , Afro , Cuban styles of music. The backbone starts with Bobby himself on percussion and is comprised of six band members and up, depending on your occasion.
They have 13 CDs out now with 2 more ready for release on 2 different labels, and another one that they just began working on.
Bobby's Latin Jazz Ensemble is widely renowned for having played in numerous jazz and Latin festivals in the US. His music is great to listen to as well as dance to.   Quoted as energetic. marvelous.mambo drenched. first rate soloing . a fine sampling of music that is too often regulated to an obscure corner of the jazz world.
… The Los Angeles Times