Todd Elliot Bands
Jumpin J Band
http://www.youtube.com/watch?v=gXEhTWTAIPY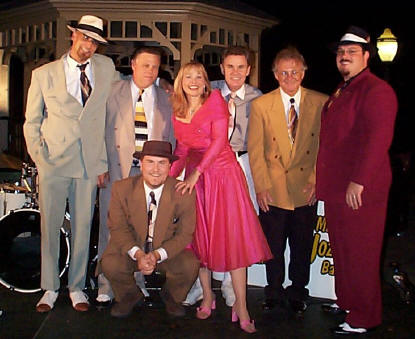 The Jumpin J Band is the swinginest band in Southern California. Their style is a wonderful combination of swing, jump, jazz, early R-B, reminiscent of Count Basie, Louie Prima, Benny Goodman, Sinatra, Ella Fitzgerald & Louie Jordan. Their music is great for listening as well as swing dancing. The band has a growing following of dancers from young to old. They not only have a great, swingin' sound but also and incredible show, and dress in a classy vintage style.
The Jumpin J Band has performed at all the most popular swing venues in California including, the Catalina Swing Dance Camp, The Derby, Disneyland Swing Night, Club Jitterbug, Avalon Ballroom, and Suzy Qs. They've played concerts from Palm Springs to Santa Barbara. They are in constant demand to play special events, company parties, weddings, fundraisers, movie openings and cast parties, community and political events, as well as private parties.
Rick is the leader, drummer, singer, and arranger whose inspiration is the great Gene Krupa. He plays with an exciting down to earth swing beat. Because J is a swing dance performer and teacher, he plays the beat the dancers want to hear. Along with the great swing classics, he also sings and writes his own original swing music and harmonizes beautifully with Ginger Berglund. Ginger, who adds a wonderfully feminine touch to the band, is a talented, beautiful singer who style is reminiscent the great singers of the 1940s like Peggy Lee and Ella Fitzgerald.
The usual configuration of the Jumpin J Band is Female, Male vocal, Piano, Bass, Drums, Guitar, Sax, Trumpet, and Trombone. The musicians include the top swing and jazz musicians in Southern California. We also have a big band version with 4 saxes, and 3 brass, or a small combo for smaller events.
The Jumpin J Band have released two great CDs and they are a fan favorite.
I hope you will consider our exciting and swingin music for your event soon.
Song List:
Swing
A Foggy Day
After You've Gone
Aint Nobody here but us Chickens
Aint that a Kick in the Head
Aint Misbehavin
Aint Nobody Here but Us Chickens
All of Me
All the Things You Are
A-Train
Baby Won't You Please Come Home
Banana Split for my Baby
Beyond the Sea
Caldonia
Cant Take That Away From Me
Cant We be Friends
Cheek to Cheek
Choo Choo Boogie
Closer To the Bone
Devil, the Deep Blue Sea
Do Nothin til You Hear From Me
Dont Fence me in
Dont get Around Much Anymore
Dont Mean A Thing
Doxy
Dream a Little Dream of Me
Everybody Eats when they come Thought About you
Flash Bam Alacazam
Fly Me to The Moon
Frim Fram Sauce
Give me the Simple Life
Goodie Goodie
Henry Jones
Hit the Jive Jack
Honeysuckle Rose
Hungry Man
I get a Kick out of You
I Gotta Touch Of Your Love
In a Mellow Tone
Is you is or is you Ain't my Baby
It Had to be You
Jive and Five
Jump Jive and Wail
Just the way you Look tonight
Knock Me a Kiss
Lets do it
Lulaby of Birdland
More than the greatest Love
My Baby Likes to Bepop
New York , New York
Nice to come home to
Oh Marie
Ol Sweet Blindness
Our Love is Here to Stay
Papermoon
Satin doll
Saturday Night Fish Fry
Shiny Stockings
Shoo Shoo Baby
Sing Sing Sing
Smooth One
Something Big
Spring, Spring, Spring
Steppin out with my Baby
Straighten Up and Fly Right
Sunday Kind of Love
Sweet Georga Brown
Sweet Lorraine
Sweet Lorraine
Swing Dance Party
Swingin on a Star
Swingin Radio
Time After Time
Time After Time
Topsy
Up the Lazy River
Walkin my Baby back Home
What cha know Joe
What is This Thing Called Love
Why Don't You Do Right
You took Advantage of MeInstrumental
All the Things You Are
A-Train
Bernies's Tune
Blue Bossa
Blusette
Boogie Woogie
Bumble Boogie
Dancin Girl
Four Brothers
Here's that Rainy Day
King Porter Stomp
Lets Stay Together
Grazin' in the Grass
Its Your Thing
People Get Ready
Road Song
Soulful Strut
Isnt She Lovely
Feel Like Makin' Love
The Look of Love
Midnight Sun
Misty
Moon River
Moten Swing
One Oclock Jump
Someday My Prince Will Come
Someone To Watch Over Me
Speak Low
Spring Can Hang you Up
Stopin' at the Savoy
Summertime
Tenderly
Walkin my Baby Back Home
Whats Goin on
When I Fall in Love
Willow Weep for Me
R and B – Motown
634 5789
Bare Footin
Boogie Down Real Slow
Brickhouse
Bring it Home to Me
Cant Hurry Love
Chain chain chain
Dancin in the Street
Find 100 Ways
For Once in my Life
Freeway of Love
Get Ready
Heard it Through the Grapevine
Heatwave
Hide nor Hair
I Just Wanna Make Love to You
Im Just a Lucky So n So
Im so Excited
Im Your Man
Just the Two of Us
Let the Good Times Roll
Lets stay together
Lonesome Whistle
Mercy, Mercy
Midnight Hour
My Cherie Amor
Pink Cadillac
Rescue Me
Respect
Smooth Operator
Street Life
Stumblebum
Tell Mama
Through the Fire
Under the Board walk
Woman You Can Trust
We are FamilyRock N Roll
BlueSuede Shoes
Cant' buy me Love
Give me some Lovin
Great balls of Fire
I Saw Her Standing there
Im Walkin
Its so easy to fall in Love
Jailhouse Rock
Johnny be Good
La Bamba
Louie, Louie
Mony, Mony
Old Time Rock & Roll
Proud Mary
Rock around the Clock
Sea Cruize
Stand by me
Sweet Home Alabama
Takin' care of Business
Tequila
Twist and Shout
Twistin the night away
Wholly Bully

Ballads
America
As Time Goes By
As Time goes by
At Last
Body and Soul
Cry Me a River
Day Dream
Embraceable You
Evergreen
Georgia
God Bless the Child
How do You Keep the Music Playing
I left my Heart in San Francisco
I only have eyes for you
I will be home for Christmas
I will be seeing you
I am Confessin that I Love You
I have got a crush on You
I have got you under my Skin
Ballads (Cont.)
Isnt it Romantic
Misty
My Foolish Heart
My Funny Valentine
My Romance
Over the Rainbow
Polka Dots and Moonbeams
Send in the Clowns
Smoke gets in your eyes
Someone to Watch Over Me
Stormy Weather
Sunday Kind of Love
The Shadow of your Smile
The Very Thought of You
Way Over Yonder
What a difference a Day makes
Whats new
When I Fall In Love
When Sunny Gets Blue
You Send Me

Latin
Besume Mucho
Black Magic Women
Blue Bossa
Dancin Girl
Desafinado
Girl from Ipanema
Joz Cha Cha
Meditation
Night and Day
One Note Samba
Perfidia
Quiet Nights
Sleep Walk
Tea for Two
Teach me Tonight
The Shadow of Your Smile
Tico Tico