Todd Elliot Bands
Todd Elliot Entertainment provides top quality professional wedding, event, and party steel drum, calypso, caribbean bands. We provide steel drum, calypso, caribbean bands for all of Southern California including Los Angeles, San Diego, Orange County, Santa Barbara, Palm Springs, and any cities in between. Check out more information below!
M Steel Drum, Calypso Band, Caribbean Band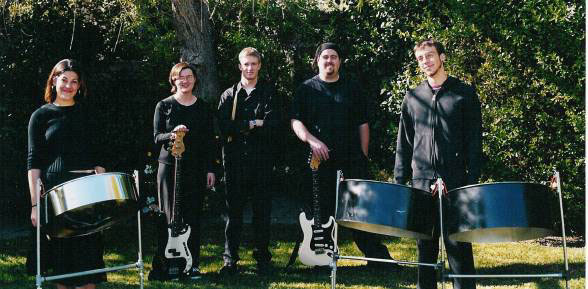 http://www.youtube.com/embed?listType=playlist&list=UUWo5AV-YRf1znd1OkZPfXKQ
The M Steel Drum Band is a high-energy performance group that specializes in blending Caribbean instruments and rhythms with American popular & world music. Our group features the unique instrumentation of steel drums, guitar, bass, and drumset.
Our repertoire includes songs made known by Bob Marley, Santana, The Beatles, Marvin Gaye, and Barry White, as well as European classical music, jazz standards, and traditional melodies from the islands. Aside from merely entertaining ourselves and others with this music, we hope to introduce a new generation to the sounds of the Caribbean via the use of songs that most American's can recognize.
Sample Repertoire Listing
All the Things You Are – jazz standard
Ave Maria – Classical
Bei Mir – Mambo -has Jewish roots, cool tune
Black Orpheus – jazz,bossa nova
Blue Bossa– jazz,bossa nova
Calypso Jazz – island groove tune
Chameleon – jazz funk tune
Cryin – dark island tune
Days of Wine – Roses – jazz standard
El Mar – upbeat cha cha
Footprints – jazz standard, groove tune
Get Up, Stand Up – Bob Marley tune
The Girl From Ipanema – jazz,bossa nova
Hot, Hot, Hot – fun calypso
How High the Moon – jazz swing standard
I Heard it Through the Grapevine – Motown
Limbo Rock – only played for limbo contests
Love's Theme – Barry White tune
Magical Sound Shower – jazzy bossa style tune from the video game Outrun
Meditation – jazz/bossa nova
Mary Ann – another fun calypso
Oye Como Va – rockin' Santana tune
Philmore's Dream – strange island jam
Star Wars – silly waltz version of movie theme
Stir it Up – Bob Marley tune
Three Little Birds – Bob Marley tune
Watermelon Man – funky Herbie Hancock tune
Yellow Bird – traditional Haitian melody
Yesterday – Beatles song done reggae style
We also have solo/duo steel drum players available.