Todd Elliot Entertainment provides top quality professional wedding, event, festival and party jugglers, acrobats, ventriloquists and little people for hire.  We cover all of Southern California providing onsite strolling jugglers for hire.  We serve Los Angeles, San Diego, Orange County, Santa Barbara, Palm Springs, and any cities in between. Check out more information below!  We have many different packages and prices available depending on your needs:
Check this Juggling while drawing a portrait video out.  Amazing!
Social Distancing Circus them Videos from juggling, stilts, unicycle & diabolo
Al is a fantastic all around performer who has a variety of juggling/acrobatic skills/Chaplin look a like, Hat & Cane & more.
Chaplinesque styled Clowning
Acrobatics (basic tumbling)
Rolling Globe (Ball Walking) (w/ juggling)
Rola Bola (w/ juggling)
Stilt-Walking (w/ juggling)
Unicycling (w/ juggling)
Juggling: (Balls, Clubs, Knives, Torches) **I also own LED juggling Balls**
Specialty: Vaudevillian Hat & Cane manipulatio Handbalancing
Acrobatics
Juggling
Specialty: Rola Bola (High Level)
Cris (pictured below and videos at the top of this page) is a world class, international comic entertainer, actor and musician with over twenty years full time experience. Drama and Circus School trained he has performed on four continents in three different languages. Cris has developed a range of unique, original acts to suit a variety of performance genres, from corporate to carnival, theater to film, stage to roving. Clients include The Lord Mayor of Sydney, BBC studios, London, and the Long Beach Grand Prix.
Whether it's musical stand up, variety comedy acts, roving, "moving show" stilt characters, juggling, or a comic EmCee, Cris offers everything. He has a commanding presence on stage and works an audience like no one else. He also has the rare ability to think on his feet and change his delivery to suit an audiences changing mood. Audiences of all ages are captivated by Christopher's multi layered, original, energetic and highly adaptable performances.  You will love him.

Variety Circus Video
Bring in our crowd-pleasing experts:
You will laugh, be amazed and want to take them home.
Single Juggling link here- This is incredible  https://www.youtube.com/edit?o=U&video_id=GWENawUNDxw
This award-winning dynamic Solo/Duo delivers clean comedy and performs outrageous circus skills with members of your audience. You never know what you will see next. They can draw your portrait while juggling at the same time. Or turn your VIP into a basketball spinning superstar. Ever seen a synchronized flowerpot drill team before? They do that too.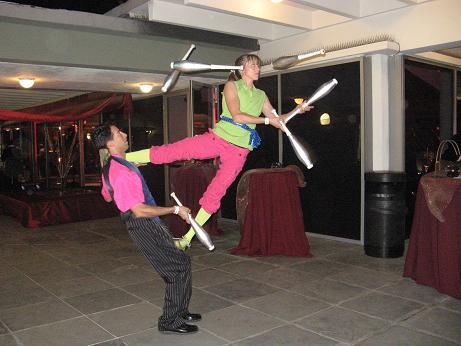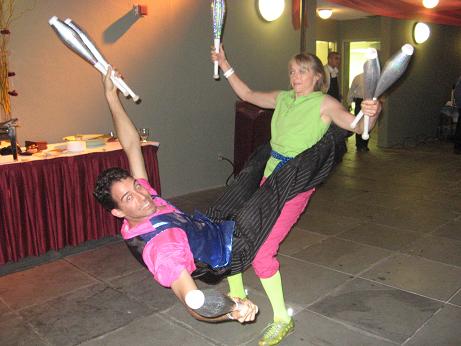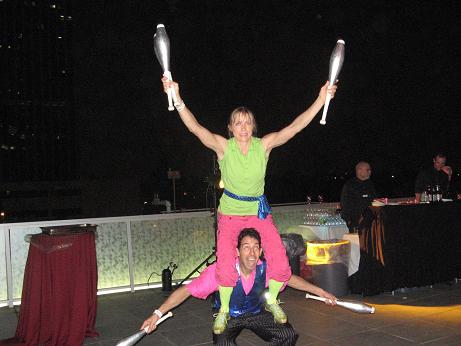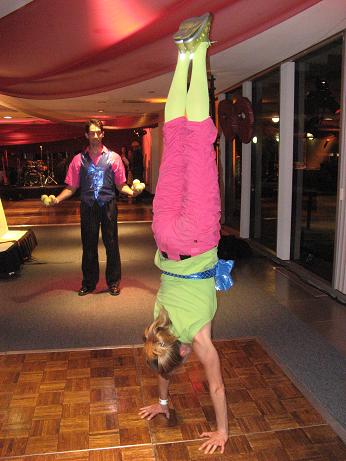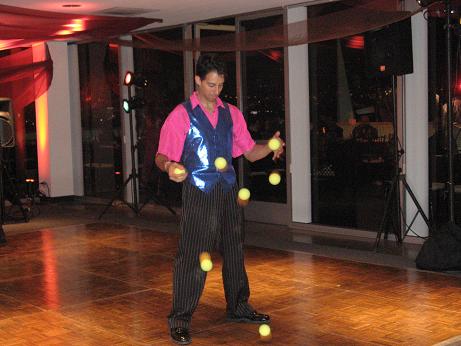 We have contortionists as well.  More on the link below.
The "P" One Man Show of juggling, unicycle, balloons, stilts, fire, comedy for adults and kids.  This show is unlike any other. As the One Man Circus Band, he does it all to perfection, and he absolutely loves performing for you. It's the ultimate audience experience — a journey we take together, as you are for sure to laugh and feel like kids again. Awe-inspiring tricks demonstrate what's possible when we devote our time and energy to what we love and to making people smile.
Ventriloquist
Great for kid and adult shows with a fantastic repertoire of puppets/characters.  The show is usually an hour with audience participation at the end, especially for kids.
My Ventriloquist and his wooden dummies and cartoon-like latex puppets have also appeared in family variety shows at big stage venues such as San Francisco s Palace of Fine Arts, San Jose Center for the Performing Arts, Oakland' s Paramount Theater, the Anaheim Convention Center and on old vaudeville stages.
His act features a BIG cast of characters, comedy, lots of audience interaction.  His large cast of state-of-the-art wooden and "soft" puppet characters includes a wise-cracking state-of-the-art wooden dummy with striking facial animations who frustrates him at every turn.
After several years of doing shows, he added walk around — using his very BIG cast of characters, which allowed him to do long engagements, rotating his cast of characters by visiting groups of people for short bits.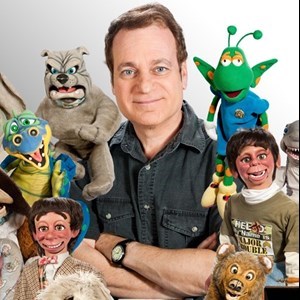 Crywheel performers
Little People aka Dwarfs are great for specialty requests as characters, actors, elfs and other themes.
Want a big Wow factor for a future event, hire one of our fantastic Strolling Girl Tables.  A wide variety of themes and costumes including LED lights, your guests will love it.  Great for putting drinks and appetizers walking and mingling through the party with an assistant to replenish, clean and help move the table with the girl inside.