Special Services – Additional Entertainment
Todd Elliot Entertainment provides top quality professional wedding, event, festival and party Mimes for hire.  We cover all of Southern California providing onsite strolling mimes for hire.  We serve Los Angeles, San Diego, Orange County, Santa Barbara, Palm Springs, and any cities in between. Check out more information below!  We have many different packages and prices available depending on your needs:
Mimes
Todd Elliot  Entertainment provides top quality professional Mimes for any event, or party.

Our Mimes including myself are fantastic, funny and professional.

With my multi talented accordian player for themed events

Mime and Magic
Even some balloons for kids parties.

Our mimes combine classical mime training with amazing mask work and a lighting fast shadowing technique to produce a powerful physical comedy routine. His humor is reminiscent of Chaplin-Marceau and his style professional.
Testimonials:
Marcel Marceau
Dustin Hoffman
Noel Blanc
Warner-Blanc
Merv Griffin Productions
UCLA
Palm Springs
Development Center
The mime skills as a physical comedian are captivating – Dustin Hoffman
Brilliant, multitalented actor and comedian – Noel Blanc
Ability to capture the attention of the crowd and maintain their interest is truly amazing – Mike Kennedy, Napa County Fair
Concerts , Openings:
Sinbad
Gallagher
Santana
Smashmouth
Peter Frampton
Isley Brothers
Smokey Robinson
Charlie Daniel's Band
N-SYNC
Lenny Kravitz
The Black Crowes
Alan Jackson
Wynonna Judd
Michael MacDonald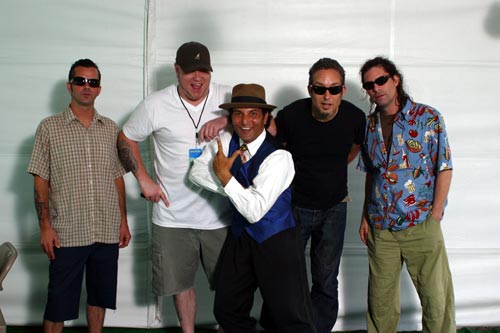 SMASHMOUTH
effective with large audiences
up to 10,000 people
Notables performances:

President Gerald Ford
Dustin Hoffman
Noel Blanc
Robert Wagner
Victoria Principal
and the late
George Burns
John Cage
Red Skelton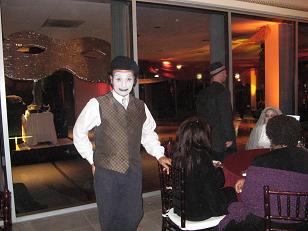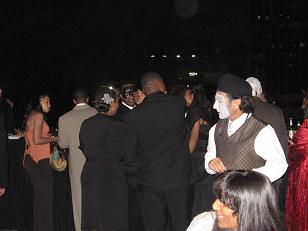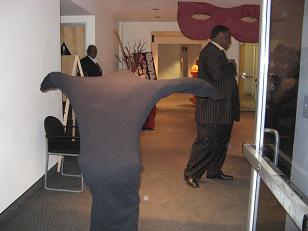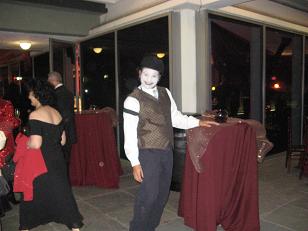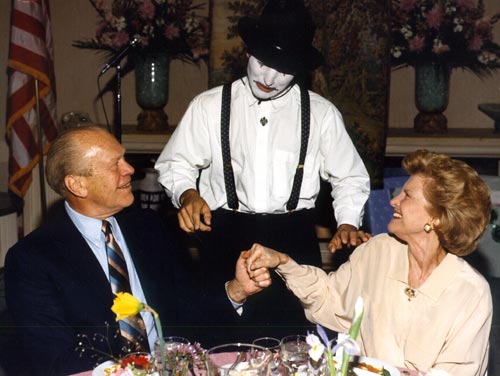 With President and Mrs. Gerald Ford
M-Mime is another fantastic entertainer full of laughs and talent.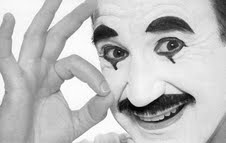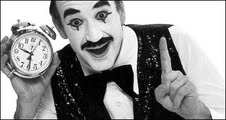 "M" Mime is one of the world's premiere street performers and is a
maniacal mischiefmaker on the prowl. Whether before an audience of
ten or ten thousand, everyone is included in his topsy-turvy world. He has worked at all the major California theme parks including Disneyland, Knotts Berry Farm, the Queen Mary, Universal Studios Hollywood and Six Flags Magic Mountain.
With performances at hundreds of fairs and festivals and theme parks, M is a fan favorite.  Whether riding a unicycle, juggling, or fighting an imaginary duel, M's rubber face and body make each moment a frenzied fantasy. Delighting both adults and children, his antics create laughter wherever he performs.
Enrich your party with a
comic usher,
comic maitre'd,
comic waiter,
comic busboy,
comic chef,
or the classic mime.
From barbecues to Bar Mitzvahs,
shindigs to weddings,
casual to formal,
indoors or out,
M Mime can adapt to any party and make it memorable.
Black & White Theme

Cirque Theme

Mardi Gras Theme

Tuxedo Parties

French Theme

Artist's Theme

April Fool's

and don't forget the Silent Auction!