Todd Elliot Bands
The K – N band
You can hear the band sound byte by clicking on the demo below.

Click here for MP3 demo 5.63 MBhttp://www.youtube.com/watch?v=z9LJPIG2Uac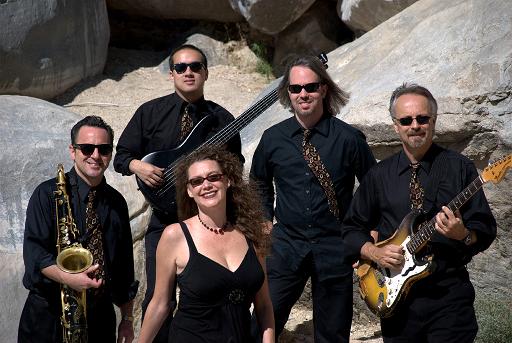 The K – N band is a 5-7 piece band that is incredibly Fun and Energetic.
They play a varied mixture of Jazz, Swing, Blues, Latin, and many standard songs -see the song list below for their extensive list. They like to call it Martini Music and people get up dancing.
This married tandem with their band have played all over L.A. in many Weddings, Private Parties, and local Venues including the House of Blues. They have played in many big Casinos in Las Vegas, Laughlin, and Arizona and have a huge tour planned in the summer of 2003 across the United States.
Nicole and Kirk are the lead singers while Kirk also plays a dynamic saxophone.
The group is rounded out with a drummer, bass, and guitar. Keyboards and Trumpet can be added or interchanged.
This Act is definitely a crowd pleaser and pure enjoyment!
This flexible, easy to work with group has many great references and a fabulous song list.
Partial Song List (always updating)

Satin Doll
St. Thomas
Fly Me to the Moon
Song For My Father
Doxy
In a Sentimental Mood
Take the A Train
Mercy Mercy Mercy
Do You Know What It Means
Ain't Nothin But A Good Time
The Way You Look Tonight
Dont Blame Me
At Last
Route 66
New Sensation
Wake Up World
House of Bamboo
What A Wonderful World
King of the Road
Jackpot
Pull Through
Don't Get Around Much Anymore
Makin Whoopie
Jelly Roll
Knock Me a Kiss
Your Nobody Till Somebody Loves You
Can't Take My Eyes Off Of You
Chicago
Is You Is Or Is You Aint My Baby
Pennies From Heaven
Ain't Misbehavin
It Dont Mean A Thing
Mystify
Fever
Closet
Flying Home
Work Song
Seven Come Eleven
Those Were The Days
Come Rain Or Come Shine
Rhoulie Roo
All Of Me
I'm Beginning to See The Light
Its Only A Paper Moon
Chicken and the Hawk
It Had To Be You
Time To Go
I Could Wright A Book
I Could Have Danced All Night
Autumn Leaves
This Cant Be Love
You'd Be So Nice To Come Home To
God Bless The Child
When I Fall In Love
Just What Your Looking For
Unforgettable
Desafinado
I Cant Give You Anything But Love
Cute
I Love Lucy
Surf Guitar Medley
Hallelujah I Love Her so
One Mint Julep
On The Sunny Side Of The Street
Angel Eyes
Down By The Riverside
Lets Call The Whole Thing Off
That's Life
Strangers In The Night
Bei Mir Bist Du Shon
Hevenu Shalom Alechem
Tzena Tzena
Beshana Habaa
Sunrise Sunset
Hava Nagila
I've Got It Bad And That Aint Good
Day's Of Wine And Roses
Mr. Bojangles
Avalon
All God's Chillun Got Rhythm
Basin Street Blues
Better Get It In Your Soul
Birth Of The Blues
Blue Moon
Caravan
C Jam Blues
Embraceable You
Fools Rush In
Georgia
A Ghost Of A Chance
Blue Bossa
I Get A Kick Out Of You
It Could Happen To You
I Thought About You
It Might As Well Be Spring
Killer Joe
Lover Man
Make Someone Happy
My Little Suede Shoes
Nature Boy
Now's The Time
Oh Lady Be Good
On A Clear Day
Our Love Is Here To Stay
Rhythm – A – Ding
Smoke Gets In Your Eyes
Softly As In A Morning Sunrise
Someone To Watch Over Me
Stardust
Summertime
Sweet Georgia Brown
Tenderly
These Foolish Things
Twisted
Who Can I Turn To
Willow Weep For Me
Chattanooga Choo Choo
Jump Jive an Wail
Stompin at the Savoy
Air Mail Special
Cottontail
Tuxedo Junction
One O-clock Jump
American Patrol
Sing Sing Sing
Perdido
Pennsylvania 65000
Tea For Two
King Porter Stomp
Jumpin at the Woodside
String Of Pearls
Little Brown Jug
All The Things You Are
April In Paris
Autumn In New York
Bewitched
Call Me Irresponsible
Harlem Nocturne
How Deep Is The Ocean How High Is The Sky
I Could Write A Book
June In January
The Lady Is A Tramp
Misty
Mona Lisa
A Nightingale Sang In Barkely Square
Ain't Nobodys Business If I Do
That Old Black Magic
The Very Thought Of You
Where Or When
A Night In Tunisia
Cantaloupe Island
One Note Samba
Have You Met Miss Jones
In A Mellow Tone
Girl From Ipanema

CLASSIC NOVELTY TUNES

I'd Like To Teach The World To Sing
Honey Suckle Rose
A Hot Time In The Old Town Tonight
Over The Rainbow
Good Night Sweetheart
My Bonnie
Lazy River
The Abadaba Honeymoon
Lil' Liza Jane
Music Music Music -Put Another Nickle In
Hello Ma Baby
I'm Sitting On Top Of The World
I'm In The Mood For Love
My Blue Heaven
Give My Regards To Broadway
Tiger Rag
Camptown Races
The Music Goes Round and Round
Five Foot Two
Zipadeedoodah

CLASSIC COUNTRY TUNES

CHRISTMAS TUNES

Always On MY Mind
Blue Bayou
Crazy
Green Green Grass Of Home
Kentucky Rain
Jambalaya -On The Bayou
Last Date
King Of The Road
Make The World Go Away
Ring Of Fire
Tennessee Waltz
Walkin After Midnight
Satisfied Mind
You Are My Sunshine
Blue Christmas
Deck The Halls
Holly Jolly Christmas
I Saw Mommy Kissing Santa Claus
Jingle Bells
Jingle Bell Rock
Joy To The World
Little Drummer Boy
Noel Noel
Oh Christmas Tree -In English and German
Oh Come All Ye Faithful
Oh Holly Night
Rockin Around The Christmas Tree
Rudolph The Red Nosed Reindeer
Silent Night
Silver Bells
We Wish You A Merry Christmas
Cool Yule
What Will Santa Claus Say -When He Finds Everybody Swingin

GOSPEL TUNES

PATRIOTIC TUNES

When The Saints Go Marchin In




Just A Closer Walk With Thee




Hes Got The Whole World In His Hands




I Saw The Light




Put Your Hand In The Hand

Adult Contemporary


Bubbly …….Colbie Caillat

1234…….Plain White T's

What I Got…….Sublime

Santeria…….Sublime

What Would You Say…….Dave Mathews Band

One Love…….Bob Marley

Is This Love…….Bob Marley

Jammin'…….Bob Marley

Stir It Up…….Bob Marley

Heaven…….Los Lonely Boys

Malagasy Shock…….Ozomatli

80's Rock and Dance

Girls Just Wanna Have Fun…….Cindy Lauper

Hit Me With Your Best Shot…….Pat Benatar

Dancing In The Dark…….Bruce Spingsteen

Glory Days…….Bruce Springsteen

I love Rock and Roll…….Joan Jett

Crazy Train…….Ozzy Osbourne

Pour Some Sugar On Me…….Def Leppard

Sweet Child O Mine…….Guns and Roses

Sharp Dressed Man…….ZZ Top

Give Me All Your Lovin'…….ZZ Top

Centerfield…….John Fogerty

Walk Of Life…….Dire Straits

House Is A Rockin'…….Stevie Ray Vaughn

Cold Shot…….Stevie Ray Vaughn

Pride and Joy…….Stevie Ray Vaughn

Workin' For A Livin'…….Huey Lewis

Pink Houses…….John Mellencamp

Jack and Diane…….John Mellencamp

Wild Nights…….John Mellencamp

Cherry Bomb…….John Mellencamp

Rock This Town…….Stray Cats

Stray Cat Strut…….Stray Cats

Only The Lonely…….The Motels

Crazy Little Thing Called Love…….Queen

Bang On The Drum…….Todd Rundgren

Take It Easy…….The Eagles

Desperado…….The Eagles

One Way Or Another…….Blondie

The Tide is High…….Blondie

New Country

Stuck Like Glue…….Sugarland

Wagon Wheel…….Darius Rucker / Old Crow Medicine Show

Billy Currington…….People Are Crazy

When The Sun Goes Down…….Kenny Chesney

All Jacked Up…….Gretchen Wilson

Mi Vida Loca…….Pam Tillis

Chicken Fried…….Zack Brown

Toes…….Zack Brown

Free…….Zack Brown

Where The Boat Leaves From…….Zack Brown

Keeper Of The Stars…….Tracy Byrd

Amazed…….Lonestar

Classic Vegas Style Swing

Jump Jive an' Wail…….Louie Prima

Sing Sing Sing…….Louie Prima

What A Wonderful World…….Louie Armstrong

Minnie The Moocher…….Cab Calloway

Hey Bartender…….Blues Brothers

That's Life…….Frank Sinatra

Fly Me To The Moon…….Frank Sinatra

Come Fly With Me…….Frank Sinatra

Makin' Whoopie…….Ella Fitzgerald

Harlem Nocturne…….Earl Bostic

You And Me And The Bottle Makes Three…….Big Bad Voodoo Daddy

Zoot Suit Riot…….Cherry Poppin' Daddy's

It Don't Mean A Thing If It Aint Got That Swing…….Duke Ellington

When You're Smilin'…….Dean Martin

Oldies

Brickhouse…….The Commodores

Play That Funky Music…..Wild Cherry

Jungle Boogie…….Kool and the Gang

I Got You Babe…….Sonny and Cher

I Saw Her Standing There…….The Beatles

Obladi Oblada…….The Beatles

When I'm 64…….The Beatles

Squeeze Box…….The Who

Drift Away…….Dobie Gray

Rockin' Robin…….Bobby Day

Groovin'…….The Rascals

Low Rider…….War

Summer…….War

Cisco Kid…….War

Crystal Blue Persuasion…….Tommy James and The Shondells

Sweet Thing…….Chaka Khan

Let's Stay Together…….Al Green

Old Time Rock and Roll…….Bob Seger

Down On The Corner…….CCR

Have You Ever Seen The Rain…….CCR

Up Around The Bend…….CCR

Sittin' On The Dock Of The Bay…….Otis Redding

Sir Duke…….Stevie Wonder

I Wish…….Stevie Wonder

My Girl…….The Tempations

New Orleans…….Gary U.S. Bonds

At Last…….Etta James

Johnny B Good…….Chuck Berry

Brown Eyed Girl…….Van Morrison

Margaritaville…….Jimmy Buffet

Sweet Home Alabama…….Lynyrd Skynyrd 

Latin

Bidi Bidi Boom Boom…….Selena

Smooth…….Carlos Santana

Black Magic Woman…….Carlos Santana

Oye Como Va…….Carlos Santana

Europa…….Gato Barbieri

Rosa Maria…….Traditional Cumbia

Mi Gallina…….Fito Olivares

Baila Como Juana La Cubana…….Fito Olivares

Classic Country

Jackson…….Johnny Cash June Carter

Folsom Prison Blues…….Johnny Cash

Get Rhythm…….Johnny Cash

Ring Of Fire…….Johnny Cash

Honky Tonk Man…….Johnny Horton

Walkin' After Midnight…….Patsy Cline

Crazy…….Patsy Cline

On The Road Again…….Willie Nelson

You Were Always On My Mind…….Willie Nelson

Irish Drinking Songs

Wild Rover

Seven Drunken Nights

Black Velvet Band

Whiskey In The Jar

Medleys

(Complete with costumes)

Toga Party (Animal House) Medley

Louie Louie

Tossin' and Turnin'

Twisting The Night Away

What A Wonderful World

Shout!

Blues Brothers Medley

Everybody Needs Somebody

Rawhide

Sweet Home Chicago

Soul man

Grease Medley

You're The One That I Want

Greased Lightning

We'll Always Be Together

Summer Lovin'

Calypso Medley

Day O

St. Thomas

Hot Hot Hot

U.S. Armed Forces Medley

The Army, Marines, Air Force, Navy and Coast Guard songs

with America the Beautiful

The National Anthem
Youre a Grand Old Flag
America The Beautiful