Todd Elliot Entertainment provides top quality professional wedding, event, festival and live guitarists and ceremony, cocktail musicians.  We cover all of Southern California providing the best ceremony, jazz and cocktail music.  We serve Los Angeles, San Diego, OrangCounty, Santa Barbara, Palm Springs, and any cities in between. Check out more information below!  We have many different packages and prices available depending on your needs.  We have other unique ceremony and cocktail musicians upon request.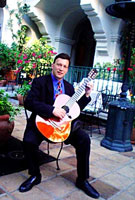 http://www.youtube.com/watch?v=9x5EpPdpt_Y

Our classical guitarist is one of Southern Californias Favorite musicians for weddings and special events.
His repertoire ranges from Bach to The Beatles, Flamenco to Broadway. He performs at the finest hotels and travels to all venues around Southern California.
He is an alumnus of University of Redlands School of Music, where he received the
Faculty Award for Outstanding Performance and the
Presser Publishing Company Talent Award.
He also studied at
The American Institute of Musical Studies in Graz, Austria.
He has performed in Austria, Belgium and throughout the United States. He studied flamenco guitar in Santa Fe, New Mexico and was a regular performer at Hotel La Posada.
Guitar Repertoire
CLASSICAL
1. Habanera – from Carmen
2. Greensleeves – Traditional
3. Minuet – J.S. Bach
4. Bouree – J. S. Bach
5. Double – J.S. Bach
6. Sleepers Awake – J.S. Bach
7. Cavatina – Myers -from The Deer Hunter
8. Bolero – Ravel
9. Speak Softly Love -from The Godfather
10. Claire de Lune – Debussy
11. Allegro – Carulli
12. Rondo – Carulli
13. Saltarello – Galilei
14. Two Lute Pieces of the Renaissance – Anon.
15. Presto – Anon.
16. Italian Tarantella
17. Morning Dance –
FLAMENCO
1. Farruca
2. Tangos
3. Soleares
4. Alegrias
5. Bulerias
6. Danze Vive – Ottmar Liebert
7. Sevillanas
8. Fandangos
9. Sigurias
10. Verdialies
SPANISH
1. Malaguena – Ernesto Lecuona
2. Romanza – Traditional
3. Recuerdos de la Alhambra – Tarrega
4. Spanish Dance – Gaspar Sanz
5. Mariona – Anon.
6. Etudes in G – Carcassi
7. Etudes in Am – Carcassi
8. Chico – Sor
9. El Colibri – Sor
10. Vals – Calatayud
JEWISH
1. Hava Nagila
2. Sevivon
3. Chanukah Chag Yafe2POPULAR
1. Classical Gas – Mason Williams
2. El Condor Pasa – Peruvian Folksong -Simon & Garfunkel
3. Layla – Eric Clapton
4. And I Love Her – Lennon, McCartney
5. Girl – Lennon, McCartney
6. She Loves You – Lennon, McCartney
7. Michelle – Lennon, McCartney
8. Julia – Lennon, McCartney
9. Yesterday – Lennon, McCartney
10. Here, There and Everywhere – Lennon, McCartney
11. Here Comes the Sun – G. Harrison
12. While My Guitar Gently Weeps – G. Harrison
13. Danny Boy – Traditional Irish
14. Stairway to Heaven – J. Page and R. Plant
15. Auld Lang Syne – Scottish Trad.
16. Amazing Grace – Hymn – Traditional
17. A Time For Us – N. Rota
18. Aura Lee Love Me Tender – S. Foster
19. Drink to Me Only With Thyne Eyes – Anon.
20. Rollin' Home – Blues – Anon.
21. Overdrivin' – Blues – Anon.
22. Love is in the Air – J.P. Young
WEDDING MUSIC
1. Bridal Chorus – Wagner
2. Wedding March – Mendelssohn
3. Ave Maria – Schubert
4. Jes, Joy of Man's Desiring – J.S. Bach
5. Air on a G String – J. S. Bach
6. Ode to Joy – Beethoven
7. Canon in D – Pachelbel
8. Somewhere in Time – John Barry
BROADWAY
1. Ain't Misbehavin' – from Aint Misbehavin
2. All I Ask of You – from Phantom of the Opera
3. Sunrise, Sunset – from Fiddler on the Roof
MEXICAN
1. The Mexican Hat Dance
2. Guanta Namera
3. La Cucaracha
4. Las Mananitas
5. Noche de Rhonda – Maria Teresa Lara
BRAZILIAN
1. The Girl from Ipanema – Jobin
2. Bossa Nova – Traditional
3. Prelude No. 1 – H. Villa Lobos