Todd Elliot Entertainment provides top quality professional wedding, event, festival and live ceremony and cocktail harp music.  We cover all of Southern California providing the best ceremony and cocktail music with our fabulous harpists.  We serve Los Angeles, San Diego, Orange County, Santa Barbara, Palm Springs, and any cities in between. Check out more information below!  We have many different packages and prices available depending on your needs.  We have other unique ceremony and cocktail musicians upon request.
Ceremony and Cocktail Music –Harpist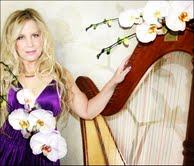 You can hear the sound byte by clicking on the demo below
Coming soon
| | |
| --- | --- |
| 1. WEDDING MARCH by F. Mendelssohn | 9. THEME and VARIATIONS by W. Mozart |
| 2. ODE TO JOY by L.V. Beethoven | 10. BARCAROLLA by J. Offenbach |
| 3 BRIDE'S MARCH by R. Wagner | 11. ENDLESS LOVE |
| 4. TRUMPET VOLUNTARY by J. Clark | 12. HARP CONCERTO by F. Handel |
| 5. ARIA by F. Handel | 13. SUNRISE, SUNSET from Fiddler on the roof |
| 6. PRELUDE by J.S. Bach | 14. EREV SHEL SHOSHANIM tradditionaly-Bridal processional |
| 7. CANON IN D by J. Pachelbel | 15. HAVA NAGILA |
| 8. JESU, JOY OF MAN'S DESIRING by J.S. Bach | 16. YIDISHE MA Me |
Harp Bio
A harp at your wedding or special event will play a big part in making your Wedding Day-Event beautiful and unforgettable. It will look gorgeous, sound heavenly, and inspire glowing comments from your guests. Our harpists are professional and very experienced with weddings and events.  Our musicians are devoted to the magic of the harp, delighting the audience with a varied and distinctive repertoire, including music from the Baroque, Classical and Romantic periods; traditional Hebrew and Christian melodies and an expansive selection of contemporary favorites.The harp is an excellent beautiful instrument played for Weddings, corporate events, recitals and any other occasion.  Our harpists take pride in delivering a high standard of performance, with impeccable presentation, while maintaining a reliable and friendly approach.
GROUP MEMBERS to accompany the Harpist for Weddings and Events include:
 HARP
 VIOLIN
 VOICE
 FLUTE
 PIANO-KEYBOARD
 GUITAR
Sample Songslist-
Wedding music-
Bach -Orioso
Bridal Chorus -Here Comes The Bride, by Wagner
Pachelbels Canon in D
The Swan -with cello
Beauty And The Beast -Disney
Spring I -Classical
Spring II -Classical
Bach Cello Suite No. 1 -cello only
From This Moment -Shania Twain
The Prayer -Celine Dion
My Heart Will Go On -Theme from Titanic
All I Ask Of You -Theme from Phantom Of The Opera
Romeo and Juliet Theme -What Is A Youth
Annie's Song -You Fill Up My Senses- byJohn Denver
Edelweiss from The Sound Of Music
Moon River from Breakfast At Tiffanys
La Serrenissima -Loreena McKennitt
I Dreamt That I Dwelt In Marble Halls -Enya
Sad Lisa -Cat Stevens
Parson's Farewell -Celtic
Piper's Hut -Celtic
Danny Boy -Celtic
The Ash Grove -Welsh
A further selection of Celtic-Irish songs
Scarborough Faire -English
Greensleeves -English
Douce Dame Jolie -medieval
Madre de deus -medieval
Paseobase el rey moro -medieval
Si je perdais mon ami -medieval
Be Still My Soul -hymn
An English Garden
Saras Dream
Three Nightingales
Little Angels
Forever After
Luna Mystica
Reflecting Pool
Lovers Requieum 
A Time For Dreams
China Moon -contemporary
World Beyond The Woods
Waltz of the Snow Faeries
Storms -Stevie Nicks
Nothing Else Matters -Metallica
The Unforgiven -Metallica
My Immortal -Evanescence
Dodi Li -Jewish
King Of My Heart -Persian
JewishSongs:
Hava  Nagila
Dodi Li