Todd Elliot Bands
Erik's Swing/Big Band/Sinatra/Standards/Xmas Music/Small Groups

Erik's Duo/Xmas Music
Sinatra Impersonation Videos
You can hear the band sound byte by clicking on the demo below.
Click here for MP3 demo 4.24 MB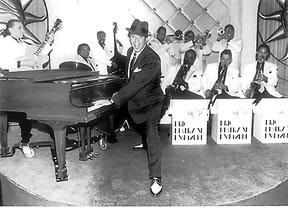 Erik's Band is a 5 or 10 piece swing, jump, blues and boogie-woogie outfit doing its own brand of music as well as old cover swing tunes that will have you dancing the night away. The group is quite the diverse band that plays songs from the 30s, 40s and 50s, along with modern standards that are all very well known.
A most popular band for weddings and events that meet all special requests. A very extensive song list can be provided, which includes big band, swing, R – B, cover tunes, latin and slow dancing Frank Sinatra hits.
Sinatra Videos Below: Erik plays the piano and is the lead singer for the ensemble. He brings great enthusiasm and entertainment to each performance with his band.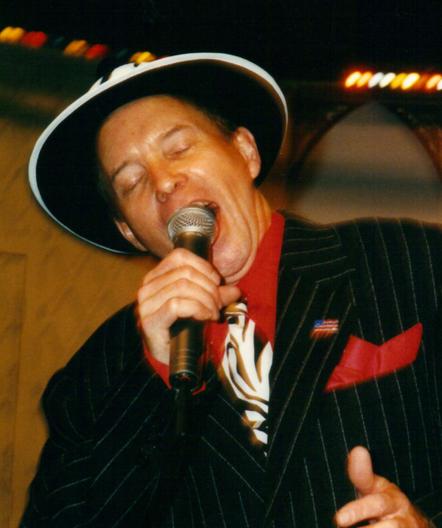 The band has an extensive and impressive list of references.
Song List:
Aint Misbehavin
My Funny Valentine
Color My World
Hey, Good Lookin
Pennies From Heaven
Sentimental Journey
Blueberry Hill
You Always Hurt the One You Love
Cielito Lindo
On Broadway
I Saw Her Standing There
I Cant Give You Anything But Love
I Left My Heart in San Francisco
Something
Okie From Muscogee
Tie a Yellow Ribbon
Georgia On My Mind
That Old Time Rock n Roll
For the Good Times
You're Nobody Till Somebody Loves You
My Way
Yesterday
I Wanna Hold Your Hand
Im Gonna Sit Right Down and Write Myself a Letter
Blue Skies
Hey Jude
Louie, Louie
On a Clear Day
Body and Soul
Burnin' Love
Whole Lotta Shakin Goin On
Bye, Bye Blackbird
But Beautiful
The Long and Winding Road
Splish Splash
Blue Moon
Stardust
Feelings
Sweet Little Sixteen
April Showers
Red Roses for a Blue Lady
La Bamba
Good Golly Miss Molly
It Had to Be You
Smoke Gets in Your Eyes
You Are the Sunshine of My Life
Bye, Bye Love
Honeysuckle Rose
That Old Feeling
Just the Way You Are
What'd I Say?
Mack the Knife
Misty
After the Loving
Jailhouse Rock
Chicago
Embraceable You
Imagine
In the Still of the Night
Kansas City
Two Sleepy People
Stand By Me
Since I Fell For You
Witchcraft
Young and Foolish
Sittin' on the Dock of the Bay
Good Hearted Woman
The Lady is a Tramp
Your Feets Too Big
I Just Called to Say I Love You
Take This Job and Shove It
New York, New York
I Got it Bad and That Ain't Good
Marguaritaville
The Gambler
Cheek to Cheek
Take the 'A' Train
Jambalaya
Back to the Barrooms
Night and Day
Autumn Leaves
Great Balls of Fire
Hotel California
Drivin My Life Away
Satin Doll
The Girl From Ipanema
On the Road Again
Lookin' For Love
Fly Me to the Moon
Wave
Rock Around the Clock
Lady
All of Me
A Foggy Day
Behind Closed Doors
The Lady in Red
When Youre Smiling
When Sunny Gets Blue
Long Tall Sally
The Wind Beneath My Wings
Ive Got the World on a String
Tenderly
One Night
What a Wonderful World
As Time Goes By
Willow Weep For Me
Sillouettes
Please Release Me
More
Meditation
Heartbreak Hotel
Vaya Con Dios
Spanish Eyes
Black Orpheus
All I Have to Do is Dream
Your Cheatin' Heart
What Are You Doing the Rest of Your Life
Sweet Caroline
Crying Time
Our Love is Here to Stay
Proud Mary
Help Me Make It Through the Night
If
Candle in the Wind
Havin' a Party
Imagination
Goodnight, My Love
Moondance
Laras Theme -Dr. Zhivago
Take Me Home, Country Roads
That's Amore
All the Way
Besame Mucho
St. Louis Blues
Route Sixty-Six
Jitterbug Waltz
Youve Lost that Lovin Feeling
All My Lovin
Quiet Nights
Brown Sugar
Evergreen
Domino
Tears of a Clown
You've Got a Friend
Smack Dab in the Middle
Elvira
Sound of Silence
That'll Be the Day
Bad, Bad Leroy Brown
Your Song
Evil Man Blues
Moon River
Hello Dolly
You Light Up My Life
Piano Man
They Cant Take That Away From Me
How Sweet It Is
Jeepers Creepers
Sea Cruise
Who'll Stop the Rain
Blowin' In the Wind
I Heard it Through the Grapevine
Close to You
That's Alright, Mama
Wasted Days and Wasted Nights
Charlie Brown
You Are So Beautiful
I Feel the Earth Move
Sunny Side of the Street
Please Send Me Someone To Love
Lady Be Good
Johnny B. Goode
Unchained Melody
The House of the Rising Sun
Hey Bartender
Memory
The Way It Is
Laura
Only You
What I Like About You
Crossroads
Bridge Over Troubled Waters
I Got Stung
It's Later Than You Think
Before the Next Teardrop Falls
Breathless
Up On the Roof
I May Be Wrong
We've Only Just Begun
True Love
Hava Nagila
In the Mood
Watch What Happens
Let the Good Times Roll
Struttin' With Some Barbecue
Do You Know What it Means to Miss New Orleans
God Bless the Child
Tom Dooley
Don't Get Around Much Anymore
Sabor Ami
This Masquerade
Ain't That a Shame
Little Susie
Linus and Lucy
Shake Rattle and Roll
Always on My Mind
There Will Never Be Another You
Basin Street Blues
I Can't Believe That You're in Love With Me
Green, Green Grass of Home
Thats What Friends Are For
The Boxer
Last Date
'Round Midnight
Strangers in the Night
The Birds and the Bees
Alexander's Ragtime Band
Knock Me a Kiss
Take Five
Move It On Over
Fifteen Minute Intermission
One of Us Has Got to Go
Somewhere
Please Stop Playing Those Blues, Boy
Honky Tonk
Raindrops Are Falling On My Head
The Days of Wine and Roses
Stormy Monday Blues
Hallelujah, I Love Her So
On Green Dolphin Street
Sonny Boy
El Condor Pasa
My Life
Choo-Choo Ch' Boogie
Tin Roof Blues
I've Got News For You
The Maple Leaf Rag
Moonglow
The Godfather Theme (Speak Softly Love)
Up a Lazy River
Mercy, Mercy, Mercy
Stella By Starlight
I Get a Kick Out of You
Mess Around
Beyond the Sea
Feel Like Makin' Love
Love Me Tender
I Can't Get Started
Killing Me Softly With His Song
Mona Lisa
The Alley Cat
Nikita
Honesty
Blue Velvet
The Summer Wind
Knock On Wood
Achy Breaky Heart
Teach Me Tonight
American Pie
Red, Red Wine
She Loves You
Crazy Arms
Sorrento
Cocktails For Two
My Blue Heaven
The Hawaiin Wedding Song
In the Wee Small Hours of the Morning
A Fine Romance
The Honeydripper
I Cant Help Falling In Love With You
My Girl
Hello
I Wish You Love
The Birth of the Blues
Golden Slumbers
Im Gettin Sentimental Over You
Mardi Gras in New Orleans
Philadelphia Freedom
Unforgettable
Ain't She Sweet
Am I Blue
Angie
Rock This Town
She's Always a Woman
Breaking Up is Hard to Do
Dancing In the Street
Cara Mia
Smile
Lets Call the Whole Thing Off
A Whole New World
A Kiss to Build a Dream On
Here's That Rainy Day
Under the Boardwalk
When the Saints Go Marching In
Michelle
Im In the Mood For Love
Sophisticated Lady
On the Street Where You Live
Blues in the Night
Just Friends
Al Di La
Please Please Me
Like Someone in Love
Are You Lonesome Tonight?
Roadhouse Blues
Baby What You Want Me To Do
Jump, Jive and Wail
Singing in the Rain
The Rose
Desperado
Way Down Yonder in New Orleans
Crazy
Stormy Weather
In a Sentimental Mood
How Long
I Cant Stop Loving You
O Bla-Di O Bla-Da
Everyday I Have the Blues
Can We Still Be Friends
Rocket Eighty-Eight
Daniel
Bring It On Home to Me
Sixteen Candles
Brown Eyed Girl
A Hard Day's Night
Behind Closed Doors
When a Man Loves a Woman
With a Little Help From My Friends
Minnie the Moocher
Lay Down Sally
Good Rockin' Tonight
Is You Is Or Is You Ain't My Baby?
America the Beautiful
Please Don't Talk About Me When I'm Gone
I Can't Get No Satisfaction
Light My Fire
Its Only a Paper Moon
Poison Ivy
The Nearness of You
Think of Me
Run Around Sue
Cab Driver
Sixteen Tons
Daddy's Home
All the Things You Are
Wild World
See You Later Alligator
Cant Buy Me Love
Happy Trails
Yellow Submarine
Higher and Higher
If I Were a Rich Man
Sunrise, Sunset
Twist and Shout
Ive Got You Under My Skin
Listen to the Music
My Heart Will Go On
Bie Mir Bist Du Schon
Make It With You
Dont Roll Those Bloodshot Eyes at Me
Oh, Pretty Woman
That Old Black Magic
Danny Boy
Sacrifice
Oh, Babe
Come and Get It
Have I Told You Lately
Donna
King of the Road
Sweet Lorraine
Volare
Get Back
Little Darlin
Sweet Home Chicago
God Bless America
Makin Whoopee
Opus number 1
Come Together
People Are Strange
Wonderful World
Brazil
What Is This Thing Called Love
You Dont Know Me
The Sunshine of Your Love
Anema E Core
I'm a Fool to Want You
L-O-V-E
If I Had You
But Not For Me
I Ain't Got Nothin But the Blues
Send In the Clowns
Don't Let the Sun Go Down On Me
Teddy Bear
Hit the Road, Jack
Wooly Booly
You Send Me
Love Is Just a Bug
Delilah
Bill Bailey
You Oughta Be In Pictures
In My Life
Those Were the Days
I Only Have Eyes For You
Love Potion number 9
Me and Bobby McGhee
Rebecca
The Way We Were
Make the World Go Away
Flat Foot Floogie With the Floy Floy
Ain't Love a Kick in the Head
Everybody Loves Somebody
Chattanooga Choo Choo
Livin La Vida Loca
Caldonia
Y.M.C.A.
Green Eyes
When You Wish Upon a Star
Dig That Crazy Chick
Let It Be
Down By the Riverside
In a Mellow Tone
Things Ain't What They Used to Be
Come Rain or Come Shine
The Way You Look Tonight
Summertime
Charleston
The Entertainer -The Sting
It's a Wonderful World
I Love You
Speak Low
How High the Moon
Rock and Roll Music
Teach Your Children
St. James Infirmary
You Never Can Tell
Love Story
Gotta Travel On
Smoke, Smoke, Smoke That Cigarette
Peggy Sue
Moonlight Serenade
After Midnight
Fire and Rain
Searching
Slow Down
Blue Bayou
Only You Know and I Know
Dont Be Cruel
The Pink Panther
Lodi
Desifinado
Just a Gigolo, I Ain't Got Nobody -Prima
Blue Suede Shoes
Love the One You're With
Crockadile Rock
Midnight in Moscow
Young at Heart
Just One of Those Things
Always
Abraham, Martin and John
Somethings Gotta Give
What You Won't Do For Love
That's Life
Yackety Yack
Endless Love
Alexander's Ragtime Band
Friends in Low Places
Woman
All Shook Up
I'm Walking to New Orleans
Have You Ever Seen the Rain
Are You Lonesome Tonight?
I Guess Ill Hang My Tears Out to Dry
Purple People Eater
This Love of Mine
Bad Moon Rising
Can't Take My Eyes Off of You
My Romance
Cry Me a River
How About You
Don't It Make My Brown Eyes Blue
Winin' Boy Blues
Seasons in the Sun
Eight Days a Week
Bird Dog
For Sentimental Reasons
Heat Wave
I'm Getting Sentimental Over You
Just My Imagination
Can You Feel the Love Tonight
Love Won't Let Me Wait
Mustang Sally
Only the Lonely
Poor Little Fool
Dream Baby
Problems
Sad Songs
Choo Choo Ch'Boogie
Norwegian Wood
The Second Time Around
I'm Walking
Don't You Just Know It
Sweet Georgia Brown
I'll Never Smile Again
Where or When
The Thrill is Gone
Dancin' In the Street
Witch Doctor
If You Could Read My Mind
Don't Let Me Down
Wonderful Tonight
Am I Blue
Everybody's Talking at Me
Put Your Dreams Away
Here Comes the Sun
My Kind of Town
Come Fly With Me
You Make Me Feel So Young

Five Piece Song List

1. L.O.V.E.
2. Cheek to Cheek
3. It Had To Be You
4. Mess Around
5. Knock Me a Kiss
6. Evil Man Blues
7. Let the Good Times Roll
8. All of Me
9. Night and Day
10. Bandstand Boogie
12. Take the 'A' Train
13. Unforgettable
14. The Honeydripper
15. Satin Doll
16. Our Love is Here to Stay
17.
18. My Babys Pie
19. Tell Me You Love Me
24. In the Mood
25. You Are So Beautiful
26. All the Way
28. The Birds and the Bees
29. Lady is a Tramp
31. Is You Is or Is You Ain't
32. Summer Wind
33. Witchcraft
34. Blueberry Hill
35. Bright Red Lipstick
36. Hallelujah, I Love Her So.
38. Unchained Melody
39. Fly Me to the Moon
40. Aint Nothin' But a Party
42, Aint I Good to You
43. My Way
44. Havin' a Party
45. I've Got the World on a String
46. Ain't Misbehavin'
47. The Days of Wine and Roses
48. Let's Call the Whole Thing Off
49. Jump, Jive and Wail
50. Oh, Babe
51. Someone to Watch Over Me
52. The Way You Look Tonight
53. In a Mellow Tone
54. Always
55. They Cant Take That Away From Me
56. I've Got You Under My Skin
57. Makin' Whoopee
59. What a Wonderful World
62. Little Mama
70. Just a Gigolo-I Ain't Got Nobody
73. Classy Cathy
87. Nag, Nag, Nag
88. My Little Friend
89. Sing, Sing, Sing
90. One OClock Jump
91. Come Rain or Come Shine
94. Fire
100. Shut Up and Dance
101. Come Dance With Me
116. Ain' Love a Kick in the Head
122. Mack the Knife
123. Basin St. Blues
124. Perdido
125. Charleston
126. Tequila
128. Oye Como Va
130. Please Stop Playing Those Blues, Boy
132. Celebration
136. Dig That Crazy Chick
140. Flat Foot Floogie with the Floy

Sinatra Songs

My Funny Valentine
Pennies From Heaven
Blue Skies
Blue Moon
Stardust
It Had to Be You
That Old Feeling
Mack the Knife
Chicago
Embraceable You
Witchcraft
The Lady is a Tramp
New York, New York
Cheek to Cheek
Night and Day
Autumn Leaves
The Girl From Ipanema
Fly Me to the Moon
All of Me
A Foggy Day
When You're Smiling
I've Got the World on a String
Our Love is Here to Stay
All the Way
They Can't Take That Away From Me
Laura
I Can't Believe That You're in Love With Me
Strangers in the Night
The Days of Wine and Roses
I Get a Kick Out of You
The Summer Wind
My Blue Heaven
In the Wee Small Hours of the Morning
A Fine Romance
I Wish You Love
I'm Gettin Sentimental Over You
Here's That Rainy Day
Like Someone in Love
Stormy Weather
Ive Got You Under My Skin
Sweet Lorraine
What Is This Thing Called Love
I'm a Fool to Want You
This Love of Mine
If I Had You
But Not For Me
Send In the Clowns
I Only Have Eyes For You
Everybody Loves Somebody
Come Rain or Come Shine
The Way You Look Tonight
Young at Heart
Just One of Those Things
Always
It's Only a Paper Moon
Somethings Gotta Give
Thats Life
The Second Time Around
Put Your Dreams Away
My Kind of Town
I Guess I'll Hang My Tears Out to Dry
You Make Me Feel So Young
Come Fly With Me
I'll Never Smile Again

Songs by Date

1. It's Later Than you Think 1950
2. Smack Dab in the Middle 1956
3. Please Send Me Someone to Love 1950
4. Mess Around 1951
5. Knock Me a Kiss 1956
6. Evil Man Blues 1962
7. Let the Good Times Roll 1947
8. One of Us has Got to Go 1946
9. Caledonia 1940
10. Bandstand Boogie 1954
11. Evil Eye
12. Rocket 88 1955
13. Nag, Nag, Nag
14. The Honeydripper 1948
15. The Luckiest Guy in Town
16. One Night 1952
17. Bloodshot Eyes 1949
18. My Baby's Pie
19. Tell Me You Love Me
20. Swing's the Thing
21. I Ain't Got Nothin' But the Blues 1948
22. Hey Good Lookin 1945
23. Let It Roll Again 1948
24. In the Mood 1939
25. Boogie Woogie 1938
26. Two O'Clock Jump 1938
27. A String of Pearls 1942
28. It Had to be You 1932
29. Opus number 1 1940
30. Satin Doll 1953
31. Stompin' at the Savoy 1936
32. Don't Get Around Much Anymore 1942
33. Sophisticated Lady 1939
34. Brazil 1939
35. Bright Red Lipstick
36. Cab Driver 1962
37. T'ain't What You Do 1938
38. America the Beautiful
39. California Here I Come 1928
40. Ain't Nothin' But a Party
41. Take the "A" Train 1941
42. Green Eyes 1929
43. Harlem Nocturne 1945
44. Moon River 1961
45. Moonlight Serenade 1939
46. Night Train 1952
47. Gotta Travel On
48. Happy Birthday
49. Cherry Pink and Apple Blossom White 1950
50. Oh Babe 1950
51. April in Paris 1957
52. Auld Lang Syne 1935
53. Christmas Medley
54. Rudolph the Red-Nosed Reindeer 1949
55. Winter Wonderland 1934
56. Jingle Bells 1935
57. Santa Claus is Coming to Town 1934
58. New York, New York 1979
59. What a Wonderful World 1967
60. Knock on Wood 1965
61. Oh Pretty Woman 1960
62. Little Mama
63. Headlights
64. Home Run Boogie
65. Up a Lazy River 1935
66. Kansas City 1957
67. Chicago 1925
68. The Yellow Rose of Texas 1932
69. Pennsylvania 6- 5000 (1940
70. Im Just a Gigolo,I Ain' Got Nobody 1955
71. Perpetual Motion
72. 720 in the Books 1939
73. Classy Cathy With the Sassy Chassis
74. Move It On Over 1947
75. Im a Fool to Want You 1954
76. We Come to Swing
77. Vote 4 Me
78. The Stars and Stripes Forever 1917
79. American Patrol 1942
80. Magic Beams
81. Blue Day
82. Sundown
83. Don't Be That Way 1938
84. Chattanooga Choo Choo 1941
85. Little Brown Jug 1939
86. Song of India 1937
87. Nag, Nag, Nag in G
88. My Little Friend
89. Sing, Sing, Sing 1936
90. One O'Clock Jump 1937
91. Come Rain or Come Shine 1946
92. The Way You Look Tonight 1964
93. Murder at the Cotton Club
94. Fire 1954
95. The Girl From Ipanema 1961
96. Little Murder at the Cotton Club 1998
97. So Rare 1950
98. South Rampart Street Parade 1936
99. Unforgettable Male Voc. or Duet 1958-1990
100. Shut up and Dance 1999
101. Come Dance With Me 1958
102. The Summer Wind 1967
103. My Way 1968
104. I've Got You Under My Skin 1956
105. St. James Infirmary/Minnie the Moocher 1938
106. The Toy Trumpet 1937
107. Tales From the Vienna Woods 1850
108. Artist's Life Waltz 1850
109. W W Rhumba 1940
110. One Note Samba 1965
111. Latin Medley
112. Wayne King Medley Waltzes 1940
113. Makin' Whoopee Cha-Cha 1925
114. La Rosita Tango
115. Jump, Jive and Wail 1955
116. Aint Love a Kick in the Head 1960
117. Psycho Bitch From Hell 2001
118. Ill be Glad When Your Dead, You Rascal, You 1930
119.Solitude 1935
120. Choo Choo ChBoogie 1945
121. Hop, Skip and Jump 1999
122. Mack the Knife 1957
123. Witchcraft 1956
124. I Put a Spell On You 1952
125. The Monster Mash 1962
126. Tequila 1958
127. Santa Claus is Coming to Town Vocal Version
128. OyeComo VA 1958
129. Hooray For Hollywood 1930
130. The Christmas Song 1949
131. Unchained Melody 1963
132. Celebration 1982
133. Mambo number 5 2000
134. Pink Panties 2001
135. Hot Monkey Love 2001
136. Dig That Crazy Chick 1956
137. Lets Call the Whole Thing Off Duet Eb
138. Lets Call the Whole Thing Off Male Voc. F
139. The New Star Spangled Banner
140. Flat Foot Floogie with the Floy-Floy 1938
141. Hold On to the Night 2001
142. Is You Is Or Is You Aint 1944
143. Lady is a Tramp 1956
144. Pico and Sepulveda 1941
145. Tiger Rag 1917
146. Why Not? 1951
147. That's Life 1966
148. When You Wish Upon a Star 1939
149. Sabor a Mi Fem. Vocal)
150. That Old Black Magic Duet 1956
151. Jungle Book Medley 1965
152. Baby, Won't You Please Come Home Duet 1956
153. Drum Boogie Fem. Voc.1940
154. Somethings Gotta Give Fem. Vocal 1957
155. Somthing's Gotta Give Male Vocal 1957
156. A Whole New World Duet1992
157. Orange Colored Sky Fem. Voc. 1991
158. And The Angels Sing Fem. Vocal 1938
159. At Last Fem. Vocal 1953
160. Back in Your Own Backyard Fem. Vocal 1943
161. The Nearness of You Fem Vocal 1936
162. Someone to Watch Over Me Fem. Vocal 1935
163. Taking a Chance on Love Fem. Vocal 1946
164. Tangerine Fem. Vocal 1941
165. I Get a Kick Out of You 1960
166. St. James Infirmary Blues 1935
167. Minnie the Moocher 1932
168. Fly Me to the Moon 1965
169. Blueberry Hill 1956