Todd Elliot Entertainment provides top quality professional wedding, event, and party murder mystery dinners. We cover all of Southern California providing murder mystery dinners and parties.  We serve  Los Angeles, San Diego, Orange County, Santa Barbara, Palm Springs, and any cities in between. Check out more information below!  We have many different packages and prices available depending on your needs:.  Shows range from 1-2 hosts to run the Great Gatsby show up to larger production shows (see options below the Great Gatsby with live music & more actors to participate.

About Our Murder Mysteries… We will "slay" your guests with a tailor made concoction of suspicion, satire and suspense. Calculated clues, fishy red herrings, shady characters and spontaneous scenarios, simmer in the minds of your guests as they attempt to solve the mystery and bring the villain to their "just dessert." All of our delicious dilemmas are custom designed with lots of information and details about your venue and guests, adding a personal flavor to this malevolent mishap that will be savored, enjoyed and remembered by all.
Our mysteries are very interactive with everyone having a chance to participate, laugh, play, act out roles, and all around have a great time. And for those who may simply enjoy being more of an observer to the festivities, the professional fast-paced presentation will keep them on their toes and thoroughly entertained. Here are our four most popular shows:
Great Gatsby 20's Theme Murder Mystery-  This is fully interactive and requires minimum 8 of your guests to partake as characters and up to 16 total.  All the guests dress up in their parts as I will mention the attire they should wear.  Either myself or assistant or both of us run & host the evening explaining all the details, rounds, clues and info to make it very fun for all. Usually about a 3 hour game with food courses & round transitions with clues, info, tips, suggestions and audience participation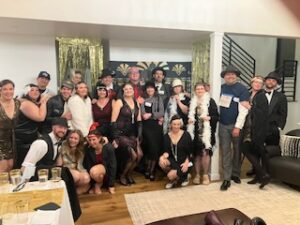 Below are a variety of shows that include bigger production with the option to add live musicians & more character actors to interact and be part of the show.
            A Gun – A Banker – A Sultry Songbird Set the Stage for a Showdown
This western themed Murder Mystery is a raucous romp through the old west. It's time to enter the nineteenth century with the arrival of the train. Your guests are invited to hear about a savory investment opportunity in this new frontier, when an unsavory event unfolds. Let the voluptuous widow, Pinky Starr Miller Monroe Mason Manchester welcome your guests, as they become a part of the mystery, suspense and mayhem. It's the good, the bad and your special guests! Its gunfights, fist fights and fights for the best seats in the house! This is the "Blazing Saddles" of interactive Mystery Theater. Your guests will love the ride.
                        Sherlock Holmes Missing Jewels Murder Mystery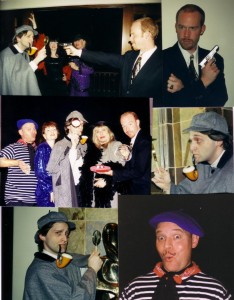 The Dimwit Family Jewels, now known as the Dimwit-Watson Family Jewels, once shown all over the world, have not been openly displayed to the public in over forty years. In honor of your special event, Lady Rose Dimwit Watson and her husband Waining have agreed to once again expose the Family Jewels for a special viewing. It's an evening of sinister secrets and suspicious subtext, as an empty display case and a glass-shattering scream brings none other than the famous Detective Sherlock Holmes the 6th – of the backyard – to the party! It's breath taking baubles, a bumbling bookie and a bad case of indigestion. It's Elementary my dear Dr. Watson… It's Murder!
                                Flapper Theme Murdery Mystery Show
Set in the Roaring 20's, this slapstick satire is a tell-all-tale about ambition and prohibition. Complete with secret passwords, flirtatious flappers, menacing mobsters, and a determined, slightly demented, District Attorney! Your guests will enjoy drinking from tea-cups, authentic twenties entertainment, and playing for clues to solve the crime. This show even has three original songs from Richard Sherman of Chitty, Chitty Band Bang & Mary Poppins fame. (Flapper attire and spats are perfect for this party)
                                 Burlesque Murder Mystery- G Rated
Please join us for this interactive vaudeville/burlesque who-done-it. Time travel back to the late 1920's when burlesque took over the vaudeville circuit. Our G-string players will entertain you with girls, gags, music, magic, mayhem and comedy that is strictly "light" blue!
Starring the Grande Dame of Burlesque, Violet La Rouge. Watch Blossom, Rosie and Lily take the stage and strut their stuff. Laugh with the Dewitt brothers. Watch closely while Magi the Magnificent does his tricks… and don't forget there is murder in the mix.
Yes there's magic in the air when we shake our derriere. It isn't arabesque. It's a tribute to burlesque!
FYI – even though it is a Burlesque Murder Mystery – it really is a clean, fun, funny, PG rated tribute to old time vaudeville and burlesque with FABULOUS original music by David Coleman… all wrapped up in a murder mystery of course! If you are interested in seeing this show, we perform it monthly at Flappers in Burbank as an open to the public show. I would love to have you as my guest!
How We Do Our "Killer" Mysteries… We set the stage for Murder, Mystery and Mayhem! The evenings 'mysterious and fun' ambiance begins the moment your guests arrive and are greeted by our professional cast of characters, as they become part of a fictional world where a sinister act is about to unfold. While there are always variations on the theme, our standard presentation of a show is that the mystery will unfold in three acts revolving around meal service. The entire performance is personalized with information about your company and your guests, making it truly a one-of-a-kind experience. "Who Done It?" questionnaires are usually handed out while dessert and coffee are being served. The final act takes place after dessert and coffee, all the low down dirty details are exposed and our murderer is brought to justice. We then award the person with the highest score a "best detective" award. Our production is always performed in conjunction with any special speeches, announcements or presentations you may be having.
What The Productions Include:
We will supply:
A full cast of 5, 7 or 9 professional Actors

3 professional musicians who will soundtrack the show AND play a set for dancing after the show (or a set before if you prefer) (or option of 2)

Personalization of Script

Customization of Show (Timing & Presentation)

Complete Pre-show Coordination with you, your venue and the technical staff
(By phone, mail, fax, etc.)
All costumes, props, printed materials, clues and Show programs

Token Silly prizes for Mystery Winners
Technical Requirements
To be supplied by the Client or Venue:
Sufficient Lighting for entire performance area (including audience area)

A small open area to create main staging area.
A private Dressing Area near the performance room. (Can be unused bedroom or den)

Dinner for Cast on Performance night. (Simple sandwiches or same as guest meal)