Todd Elliot Entertainment provides top quality professional wedding, event, festival and live ceremony musicians and string groups.  We cover all of Southern California providing the best ceremony, jazz and cocktail string groups.  We serve Los Angeles, San Diego, Orange County, Santa Barbara, Palm Springs, and any cities in between. Check out more information below!  We have many different packages and prices available depending on your needs.  We have other unique ceremony and cocktail musicians upon request.
We work with a Variety of Professional String Musicians from the top Symphonies and Orchestras in the city. They range from a duo-trio-quartet+ depending on your request and preference.
Please check out the below video links to see more.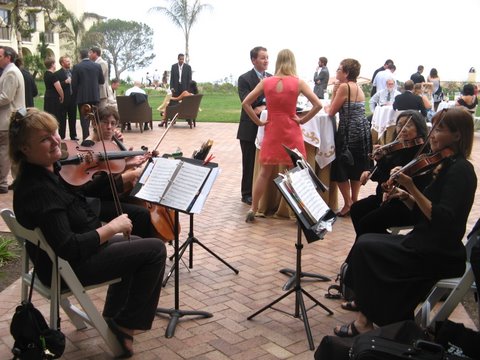 You can hear the band sound byte by clicking on the demo below.
Click here for MP3 demo 4 MB
Our chamber string music groups play for Weddings, receptions and any other events or company functions. They have performed at over 1000 plus weddings and other special occasions. All are professional musicians. Quartets are the specialty but they can also do trios, duos, and solo violinists and cellists. References available upon request. Our group sounds great and you will be fully satisfied.
Song list
CLASSICAL
Bach Brandenburg Concertos
Barber Adagio
Beethoven Minuet in G
Bizet Carmen
Borodin Nocturne
Brahms Hungarian Dances
Corelli Concertante
Debussy Reverie
Delibes Flower Duet
Dvorak Slavonik Dances
Elgar Salute DAmour
Gershwin Rhapsody in Blue
Handel Water Music
Haydn -The Lark
Kreisler Liebeslied
Massenet Meditation -from Thais
Mendelssohn Canzonetta
Monti Czardas
Mouret Rondeau -Masterpiece Theater theme
Mozart Quartets and Divertimenti
Mozart Eine kleine Nachtmusik
Puccini Musetta's Waltz- O Mio Babbino Caro
Rachmaninoff Rhapsody on a Theme by Paganini
Schubert Moment Musicale; Rosamunde
Strauss Waltzes
Verdi Brindisi
Vivaldi The Four SeasonsWEDDING MARCHES
Bach Air in D
Beethoven Ode to Joy
Brahms Theme from 1st Symphony
Clarke Trumpet Voluntary
Handel Entrance of the Queen of Sheba
Handel La Rejouissance
Mendelssohn Recessional
Mozart Marriage of Figaro
Pachelbel Canon
Purcell Trumpet Tune
Wagner Bridal Chorus (Here Comes the Bride)CHURCH MUSIC
Bach Jesu, Joy of Man's Desiring
Franck Panis Angelicus
Malotte The Lord's Prayer -Our Father
Mozart Alleluia -Exultate Jubilate
Schubert Ave Maria
Shaker Hymn Simple Gifts
Traditional Amazing GraceJEWISH MUSIC
Do Di Li
Erev Shel Shoshanim
Jerusalem City of Gold
Ose Shalom
Ozidanie -Expectation Waltz
Siman Tov
Sunrise Sunset
To Life
STANDARDS, POPS, SHOW TUNES,
JAZZ CLASSICS, MOVIE THEMES
All I Ask of You -Phantom
All the Things You Are
Anniversary Song
Anything Goes
Beatles Medley
Beauty and the Beast
Besame Mucho
Birth of the Blues
Can You Feel the Love Tonight
Con Te Partiro -Bellagio theme
Dream a Little Dream of Me
Embraceable You
Evergreen
Fascinating Rhythm
Fiddler on the Roof Medley
Fly Me to the Moon
From a Distance
Funiculi, Funicula
Have I Told You Lately
I Enjoy Being a Girl
I Get a Kick Out of You
Isnt It Romantic
It Dont Mean a Thing
If It Aint Got That Swing
Ive Got You Under My Skin
I Will Always Love You
Just One of Those Things
Laras Theme Dr. Zhivago
Laura
Layla
Lullaby of Birdland
Makin' Whoopee
The Man I Love
Memory -Cats
Mexican Medley
Music of the Night -Phantom
My Funny Valentine
My Heart Will Go On -Titanic
A Natural Woman
Night and Day
La Paloma
Pennies from Heaven
Por una Cabeza
The Rose
Russian Medley
Scarborough Fair
Schindler's List
Scott Joplin Rags
Send in the Clowns
Solamente una Vez
Someone to Watch Over Me
Somewhere in Time
Sophisticated Lady
St. Louis Blues
Stardust
Sweet Dreams Are Made of This
A Time for Us -Romeo and Juliet
Through the Eyes of Love -Ice Castles
Torna a Sorrento
Turn, Turn, Turn
Unforgettable
The Way You Look Tonight
What A Wonderful World
When I Fall in Love -Sleepless in Seattle
Yesterday
You Are So Beautiful