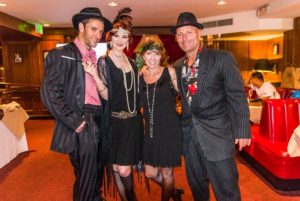 Todd has performed and entertained at many private functions, including the first and second annual Getty company parties with over 3,000 attendees at the museum, a few private Disney Co. parties,  and other corporate events by Arco, Toshiba,House of Blues, City of Hope, Swing Alive at the Hollywood Palladium, and the last episode party for Home Improvement with Big Bad Voodoo Daddy.
Todd has also performed for private events with Merv Griffins 2000 New Year's show featuring The Alien Fashion Show Swing Band, numerous corporate parties with The Brian Setzer Orchestra and Royal Crown Revue on separate occasions, the premier of The Grinch movie starring Jim Carrey at Universal Pictures with Cherry Poppin Daddies performing.
Todd is the King of Swing and the best at interacting with guests. As well as being familiar with other dance styles, he is associated with incredible, professional dancers – where the guarantee is  No one will want to leave the dance floor.  He also Teaches Kids. His best assets are being patient when he is teaching and fun when he is performing.