Thinking of hiring a Photo Booth for your next event, we highly recommend it. Photo Booths offer state of the art fast reliable compact elegant and cool looking Photo Booths. You get unlimited pictures with any text/logo and we have props that are included that make it a lot of fun.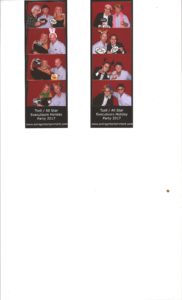 There are a couple choices of the Enclosed Photo Booth for those more private memorable moments or fun Open Air Style for large group shots. A new offer is the Flip Books Photo Booth for creating a 7 second hilarious video then we print the 7 seconds into a fun flip book that you flip through the pages quickly.  Something also new as an additional option is the Social Media feature- by adding this feature you can now Facebook, Twitter and email your photo booth images instantly and let the sharing begin! Photo Booths are the rave now and the photos you get are the perfect Party Favor for your guests! With the open air more popular photo booths these days, you can fit 15-20 people in a picture and you get 4 poses to create a variety of shots.
One staff tech is included with the rental. Remember that cheapest is not always your best option as many times you get what you pay for so it is important to know about the quality of the photos along with the reputation of the company you are hiring.  It is more important to pay a little more but feel comfortable and know you are getting professional services. Make sure to see samples and even ask for references if need be.
https://swingentertainment.com/other-services/photo/photo-booths/